There's no denying that tea is a great addition to any diet. This is especially true of green tea and the health benefits that it has to offer, including giving your metabolism a boost, helping to keep your teeth clean and giving you a generally soothing feeling. Drinking green tea is a great way to get a gentle boost that leaves you feeling calm and focused.
Choosing a brand of green tea can be difficult though, as each brand is made a little differently and focuses on different aspects. To help you determine which brands you should try, we're going to take a look at one of the most popular brands of green tea, Bigelow. We'll offer some insights into the company itself as well as details, pros and cons of their green tea.
About the brand
Bigelow began in 1945 and was founded by a woman named Ruth Campbell Bigelow. With an interest in tea, she decided to try out a colonial recipe that included spices and orange peel and it quickly became a big hit with her friends and family.
From that small start came a company that is now a giant in the United States tea market. Today, you can find a number of different Bigelow tea blends in just about any grocery store in America, signifying that it's in rather large demand by a lot of happy consumers.
Being a family-owned company, the current owners strive to continue what Ruth had started all those years ago. They've expanded the flavors and blends of Bigelow tea so that just about anyone can find a flavor that they enjoy.
The company now also sells other goods alongside their well-known tea such as tea chests, apparel, engraved goods and more. Just as Ruth once did, the current owners strive to make sure customers know that flavor is the most important aspect of Bigelow tea. They also strive to keep each tea bag fresh by placing it in an individual foil packet.
Bigelow strives to offer high quality at a budget-friendly price so that everyone can enjoy the flavor and benefits that come from Bigelow tea without having to worry about the price. Their teas are also made with healthy, delicious ingredients that offer the utmost in flavor as well as health benefits.
In most cases, those ingredients are also GMO-free and all natural. With this, you can feel safe in knowing that what you're drinking is pure and natural.
Bigelow strives to take the steps required to make sure every customer is able to enjoy and find benefit in their product, regardless of which flavor blend it is.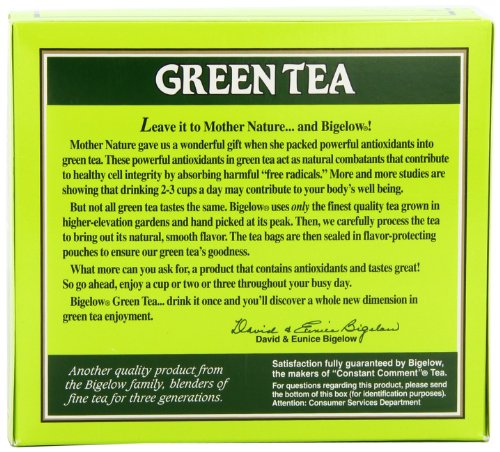 Details of Bigelow Green Tea
Green tea offers a multitude of health benefits, and Bigelow tea is no different. Not only is it a drink that doesn't add any calories to your daily intake, it can also help to keep you healthier and even give your metabolism a bit of a boost.
The green tea offered by Bigelow is grown in high-elevation gardens and is hand-picked to offer the most in quality and flavor. It's also known to be gluten free and includes no carbohydrates. You really can't beat the health benefits possible when it comes to green tea.
The packaging of this product is designed not only to be very easy to open, but also create the highest level of freshness possible until the packets are opened. Bigelow green tea is filled with helpful antioxidants that can assist in keeping your cells healthy and functioning well by absorbing free-radicals that can otherwise be harmful to your body.
This is just the tip of the iceberg when it comes to green tea, which means it's well worth trying if you haven't had a chance to yet.
Bigelow strives to keep the freshest, most quality flavor in their green tea. They also offer multiple varieties of green tea including many that feature other flavors as well including lemon, pomegranate and mint.
This is really helpful for those who want the health benefits of green tea but seek a little more flavor than plain tea on its own.
You can also add things like honey or sugar, milk or cream in order to soften the flavor and make it more enjoyable. These things can add calories to your drink, but can help you with livening up the flavor if you desire.
For those who have limits on food on beverages that are kosher, you'll be happy to know that Bigelow green tea fits all the necessities that a kosher beverage should. It also doesn't include any GMOs, so you'll be able to trust that what you're drinking is healthy and nothing short of beneficial to you.
It's also made from all natural ingredients, so you won't have to be concerned about a lot of harmful chemicals or other ingredients that may not offer the best attributes for your body and health.
Pros
A great drink that can benefit your health
Excellent flavor
Budget friendly
Offers caffeine without the intensity of coffee
Bulk packaging offered
Cons
The packaging of the tea bags can sometimes be difficult to open
Some customers claim the flavor is weak
In some cases, customers feel that the tea doesn't taste fresh
Conclusion
Bigelow is an excellent tea brand that has grown to be highly popular over the years. Due to that, it now offers a massive selection of different flavors and varieties for customers to enjoy. Green tea offers a lot of benefits to your health and Bigelow makes those benefits affordable and easy to purchase.
Some customers have felt that the flavor of this brand is weak or doesn't taste the freshest, so it's worth trying out to see how you feel about the flavor. Everyone is going to have a different preference when it comes to tea, and Bigelow is well aware of that.
That's why they have so many different flavor options so that each customer can choose their favorite.