For some, tea can be a staple in their diet. Green tea in particular can offer a lot of health benefits that many find to be a key part of their daily life. It's great to drink hot or cold, and can have a very light, refreshing flavor.
Yet, you may not always know what brand of green tea to try if you're new to the concept of drinking green tea, or you may be looking for a new brand for better flavor or a lower cost.
In order to help you find the ideal brand of green tea, we're going to take a look at Davidson's Tea to give you some information about the brand of tea as well as positive and negative aspects that customers have found while trying it out.
The brand
Davidson's has been working for over 40 years selling gifts, teas, herbs, cocoa and more that are entirely organic and even held to fair-trade standards. The company largely focuses on producing natural, organic products that are going to offer a lot of flavor and benefits without the added chemicals from pesticides,
GMOs and other unwanted ingredients. There is an intense focus on creating a symbiotic relationship with nature that allows both tea-drinking humans and our environment to coexist peacefully.
Davidson's has strict quality control standards that allow for the highest quality products at a price that is fair to both customers and employees.
The goal for Davidson's as a company is to develop blends of tea that really live up to their name in flavor. That means selecting spices and herbs that really add to the recipe to create a full flavor rather than something that is weak and tasteless.
In order to help give customers access to the greatest possible selection of organic teas, they have an agreement with a high-level organic tea company in India. Between this alliance and their ability to work with small farmers all over the world, Davidson's is able to offer many varieties of sustainably sourced organic teas that are offered at a fair price to the customer.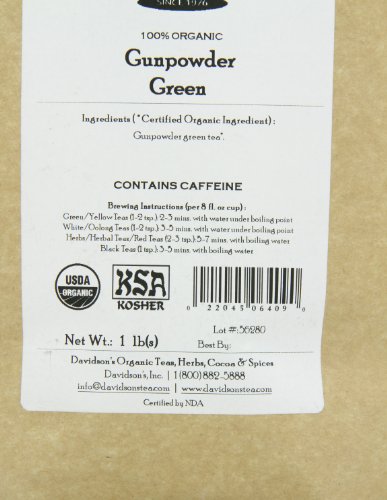 Details of Davidson's Tea
This product offers you an undeniably excellent deal, with a pound of loose leaf green tea for just under $10.00. That gives you a lot of green tea at a cost that is highly cost effective. Considering that this tea is all natural and organic, that's a really great benefit to have when products of that quality are typically on the more expensive end of the market.
The gunpowder green tea comes from China, which allows it a high level of authenticity. It's certified by the USDA to be organic, which is a high standard to be held to and can assure you that when you drink this tea, you are truly drinking something natural and pure.
With this tea, you get a deep, full flavor that is unlike many standard kinds of teas that you find in the US, which are often weaker. Green tea can offer you a lot of benefits, including the boost you get from caffeine with a softer touch.
Unlike coffee or caffeine pills, tea can offer you enough caffeine to be alert without giving you jitters or a sharp crash afterward. You can easily make this tea using a coffee maker or a tea infuser which does require a little more effort than bagged tea but is still quite easy to make and will offer a quality flavor that is sure to outweigh the process of making it.
Green tea is naturally low in calories, so you won't have to worry about the caloric effects of drinking a lot of it, and it offers a lot of antioxidants that can greatly benefit your health and well-being.
This tea comes in tightly rolled pellets and is packed in a bag that is lined with foil to help maintain the freshness of the leaves. In rare occasions, some customers have found bits of debris in the mix. This is something that can happen with organic products.
Luckily, through the process of filtering, if you make the tea in a coffee pot or with the use of a tea infuser, none of that debris will get into the tea itself. Some customers may be bothered by the debris, so it's important to keep this in mind. However, others believe that it is unlikely to do any harm and represents just a little extra nature in the drink.
In general, tea can be an extremely soothing drink that is gentle on the body and allows you to get a little caffeine boost in a very gentle way. It's a healthy drink that can be made sweeter through the use of honey or left alone if you enjoy the flavor without any additions.
It's something you can drink any time of day without worry for intense reactions or being kept up all night. For those who haven't had the opportunity to add tea to their diet, it's well worth trying out and this gunpowder green tea is an excellent and low cost way to start.
Pros
Comes at a great price for a bulk amount
Contains a lot of flavor
Has a delightful smell
Organic.
Works well for making tea in a coffee maker
Cons
Customers have experienced sediment left in the bottom of cups and containers
In some cases, customers have not been fond of the flavor
Some customers have found sticks and other debris in the tea
Conclusion
Davidson's tea has a lot to offer those who are looking for high amounts of green tea at a lower cost. You can get a pound of the tea without having to break the bank, which makes it very budget friendly, especially for those who drink multiple cups of it daily.
Overall, it's absolutely worth trying out. Just make sure to check for any debris prior to making the tea. Otherwise, through using a coffee filter you will at least be able to keep debris from getting into your drink.
This can be a problem for some customers, but to others it's just part of the experience with organic, natural products.