When you're looking for something healthy to drink that can benefit your health without being filled with sugar or chemicals, then green tea is an excellent option. Numi is one of many brands that offers high-quality green tea at an affordable price. With so many brands out there, how do you know which one is going to be ideal for you?
We're going to help you with making that decision by providing information on the organic jasmine green tea available from Numi, including some pros and cons that customers who have already tried the product have found. We'll also offer some brief information on the brand itself so that you can learn a little bit about the makers prior to making a purchase.
About the brand
Numi seeks to develop pure, high-quality tea that can help bring balance and well-being into the lives of their customers. In order to create this reality, they have brought together the power of commitment, authenticity and creativity.
The founders, as well as their employees, work hard to bring you organic tea that is not only all natural and free of chemicals, but also delicious. A full flavor is of great importance and allows customers to get the most from their tea experience.
They also offer a number of different flavor blends so that each customer can find something they enjoy and benefit from.
The company was started by a brother and sister duo named Ahmed and Reem Rahim. The two strive to bring excellent organic tea and a value of art into the world.
As a team, each sibling takes on their own tasks in the company and oversees different aspects of the way Numi is run. Ahmed's responsibilities include finding unique new recipes to add to their product line, as well as other Numi products that are released all year long. In order to find these new blends, he travels all over the world searching for remote areas and communities that have their own local tea recipes.
He's been to Africa, China, South America, India and more in his search for new tea blends.
Ahmed's sister, Reem works to oversee such aspects as package design and Numi's overall brand identity, as well as the marketing aspect that keeps the interest of customers all over.
Both founders also work to do good things for communities all over the world through funds and programs that keep art in societies that may not be able to keep it otherwise. Both founders truly care not only about their product, but in creating a better world as a whole.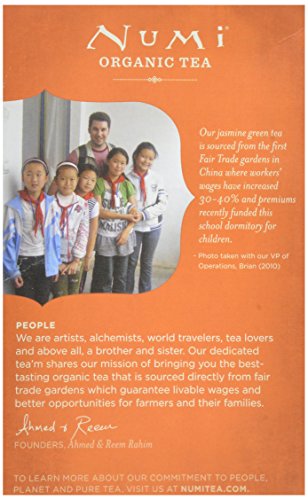 Details of Numi Organic Jasmine Green Tea
The Numi Organic Jasmine Green Tea offers you 3 boxes of 18 tea bags for around $20.00, which isn't a bad deal. This is also a jasmine green tea rather than an original green tea flavor so it adds that extra layer of jasmine to help add a nice, well rounded flavor as well as the benefits that green tea can offer.
Jasmine can also often be soothing for those who drink it, which makes it great for winding down at the end of the day or just enjoying a soothing drink when the weather is cold. The warm scent of green tea and jasmine is sure to be calming and allow you to get a good sense for the ingredients that have gone into this delightful product.
It's a light, fragrant tea that layers green tea leaves and flowery jasmine tastes in an easy-to-make way. With the tea bags, all you have to do is allow the bag to seep in hot water for a few minutes to get the full flavor and health effects.
Numi also offers loose leaf, if that's something you prefer. In many cases, loose-leaf tea can take a little bit more effort to make, but it can also save money on tea if you're trying to stick to a tight budget.
Like all of the tea blends offered by Numi, this blend is sugar free, organic and free from any artificial scents or flavors. Every bit of the jasmine green tea is natural, delicious and a great way to help you with staying hydrated.
This particular tea has come from China, where it is grown by farmers in specialized tea gardens. Numi has worked to ensure that these great farmers receive a decent wage for their services and have therefore recently funded an increase in pay of 30-40%, which is going to allow them to live better lives and be able to take care of themselves more easily.
Numi also funded the building of school housing for children so that they can have a safe place to stay while they learn and grow into the world. Numi works to make the world a smaller place by providing the sourcing information on each blend so that you know exactly where your tea is coming from.
Pros
Offers delicious, full flavor
Organic and natural
Includes a great Jasmine overlay of scent and taste
Helps with after-meal fatigue
Great quality
Cons
Some customers claim that the flavor is weak
In some cases, customers aren't fond of the jasmine taste
Some customers are not able to notice the jasmine attributes
Conclusion
Numi Organic Jasmine Green Tea has a lot to offer you as a customer. It starts with a great tasting, organic tea and goes all the way to the excellent work that the Rahim siblings do to keep the Earth a great place. They help to keep art in the world, and strive to offer pure, organic teas that are free from chemicals and other nasty things that can wind up making their way into many non-organic tea brands.
They're also able to do this while still offering a budget-friendly price, as well as a wide range of tea blend options so that you can find the one that will best suit you. Whether you like green tea, black tea or any other variety, Numi will surely have something that will suit your needs.